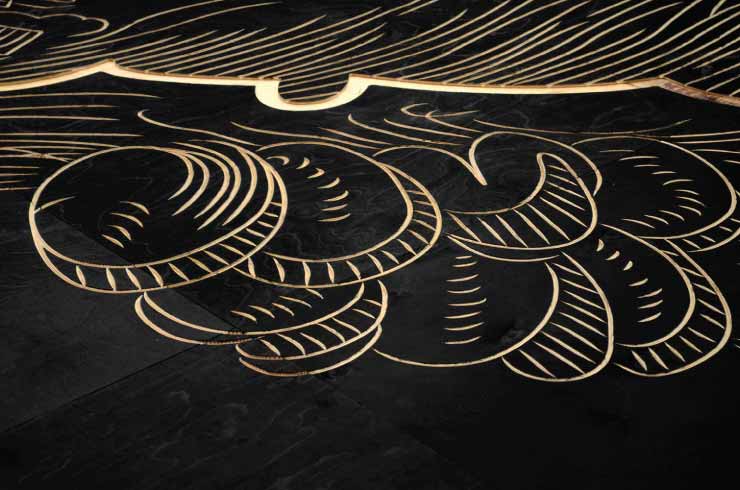 My first big job, routing a huge wooden map of Mexico City, came when I still had a very small workspace across the street in betahaus. It was a regular day, I was just sitting around with not too much to do, and then Mariana Castillo Deball knocked on the door, and asked me if I had time to do a project for her. This was a case of pure good luck, because Mariana lives right in the neighborhood, and because she had noticed my workshop, and that I had a CNC router. Most of the work I do, 85 to 95 percent, comes to me online, but there have been some important exceptions. The job that I would do for her for the Hamburger Bahnhof brought in more than a quarter of my earnings for that year, and because it was my first year, it literally saved my ass, financially speaking.
What she wanted me to do was to engrave an image of an old map of Mexico city that had been sent back to Europe by the Conquistadors on 150 square meters of plywood which would then be laid out onto the floor of a room in the Hamburger Bahnhof (which is a museum right next to the central train station here in berlin). The installation Mariana wanted to create was for a competition which she participated in and won, called "Preis der Nationalgalerie für junge Kunst". Here's the image she wanted me to engrave: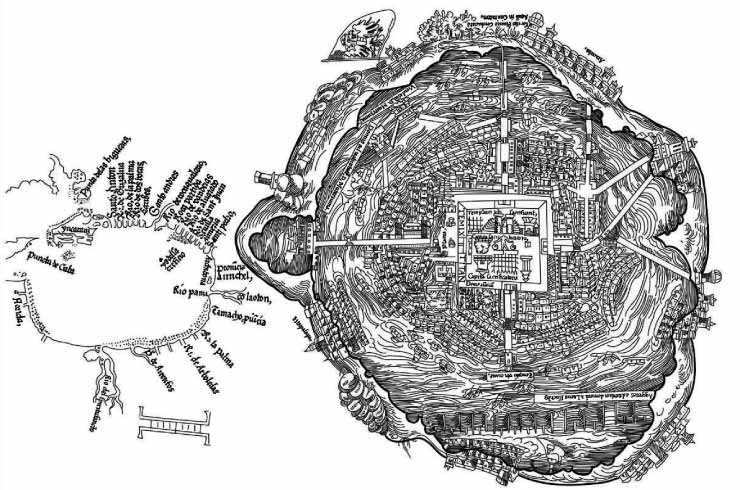 In order to get this huge image onto my machine, which is big, but not that big, I needed to break the image down into sizeable chunks, which is referred to as tiling. Fortunately the software I use is very good at tiling, because tiling this image in adobe illustrator would have been a nightmare. Basically all I needed to do was to load the whole image into VCarve, which is the Program I use for routing, and then give it the size of the squares of plywood I wanted to use (1200 x 1200mm), and then, after a good long pause, VCarve gave me the gcode for all 96 panels that I needed to router. I have to say, without the intuitive tiling software from VCarve, routering this job would have been a nightmare.
This is how the panels looked freshly routed: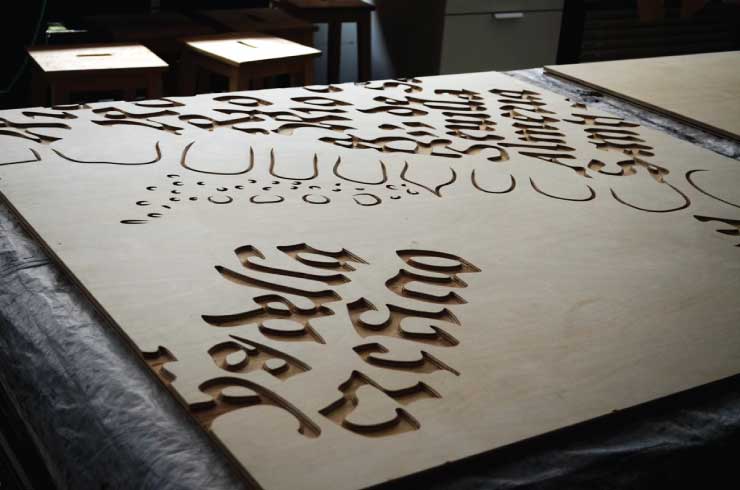 And here's what they looked like after they'd been used for printing: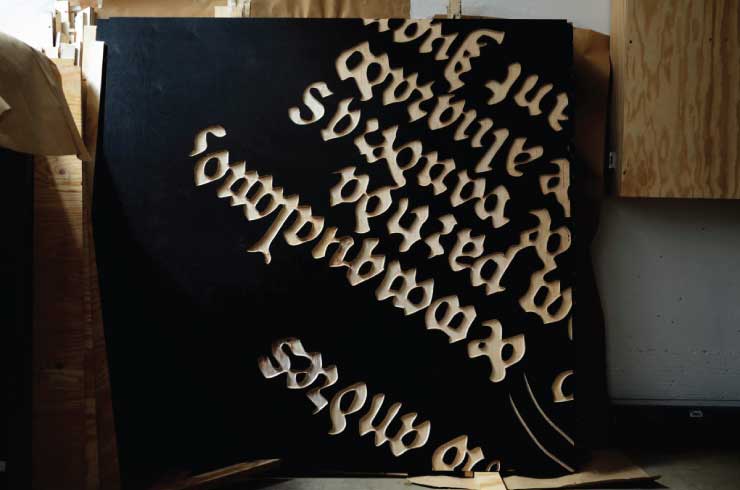 Each of the panels was used to print an enormous book, which was two and a half meters long when opened on display at the exhibition. So those who visited the exhibition were actually walking on the printing blocks used for printing a book of the map. The prints were made with traditional oil-based ink, and they took days to dry, but fortunately it was possible to print them just next door to my shop, so that was done parallel to the routering. The routering took about 3 weeks.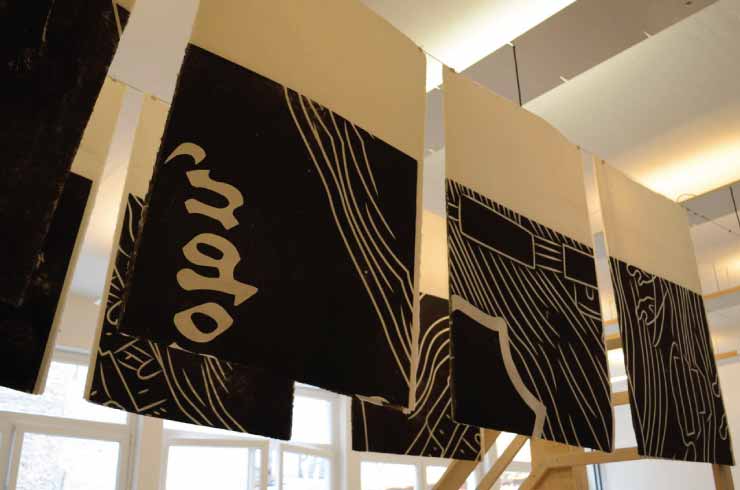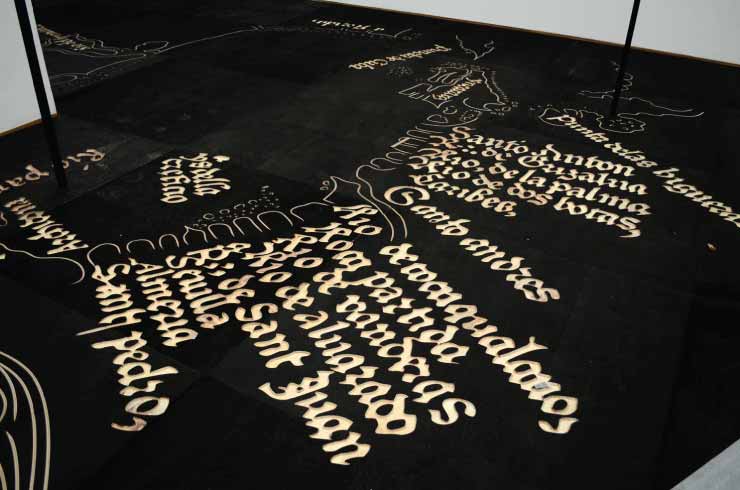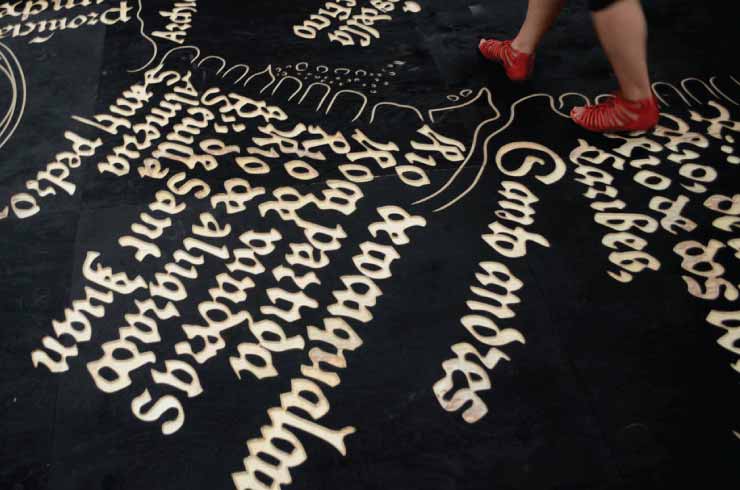 Several months after the exhibition in the Hamburger Bahnhof, Mariana did a similar exhibition in Genoa using an an ancient image of the cosmic tree of Tamoachan. Here you can see some photos of that exhibition: